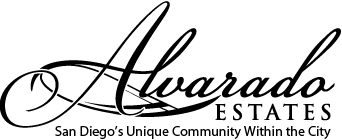 APPROVAL OF CONSTRUCTION AND LANDSCAPE
The rules of our community require that any change or improvement to the exterior of a dwelling or lot be approved beforehand by the Architectural Committee. The only actions that do not require approval are repainting in accordance with the original color scheme, or rebuilding or replacing in accordance with plans and specifications previously approved by the Board. However, it is recommended that all lot owners check with the Architectural Committee before proceeding with a project to see if there is any uncertainty as to whether or not Board or Architectural Committee approval is required.
The procedure for submitting an application to the Architectural Committee is as follows:
Download and complete an Approval of Construction and Landscape Form.
Send a complete set of plans in PDF format to architecture@alvaradoestates.org. It is highly recommended that all plans and drawings be prepared by a professional, and that as much detail be included as possible. Accurate and comprehensible presentations are essential in order to make an assessment during design review.
Fees for Architectural Committee applications are as follows, made payable to Alvarado Community Association, Inc.:

| | |
| --- | --- |
| New home construction | $1,000 |
| Additions or replacement construction 1,000 square feet or more | $750 |
| Remodels, additions, garages less than 1,000 square ft | $500 |
| Decks, retaining walls | $250 |
| Fence construction or replacement, landscape alteration | $100 |
| Other activities not described above, such as alterations to approved plans (at the discretion of the Architectural Committee Chair) | $100 - $1,000 |
Fees for other activities not described above, such as alterations to approved plans, are $100 - $1,000 and are at the discretion of the Architectural Committee Chairperson.
Once you have your application package, please submit it to the Architecture Committee. If you have any questions please call Miguel at 619-770-7091.
SOLAR
Please review the Solar Guidelines before proceeding with any solar installation.
For more information on submitting applications for construction and landscape, please see the Community Rules.